Adelaide
Lines into the Adelaide city station
Suburban - Keswick (platforms and lines near)
Suburban - Outer Harbour line, including Grange
Suburban - Noarlunga line, including Tonsley
Suburban - Belair line
Suburban - Gawler line
Suburban signalling and safeworking (based on British Feather)
The 2000 and 2100 series railcar
For info about Red Hens and other heratige railcars, see the National Rail Museum.
TransAdelaide runs the suburban commuter trains
Adelaide Metro organizes public transport, including tickets and timetables
Barossa Wine Train is a refurbished heritage train that departs from Adelaide city station for toirist trips to the Barossa Valley wine area. Lots of packages are available.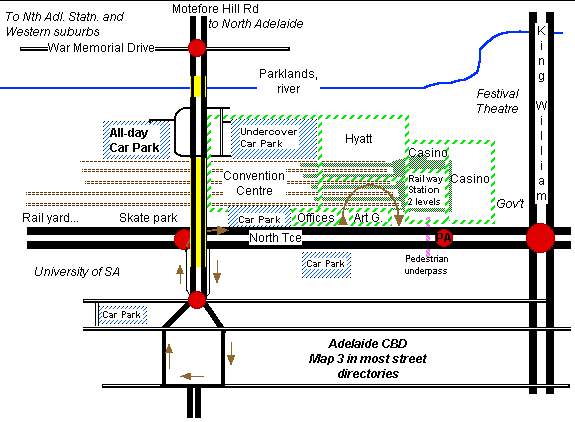 I drew this map from my head, so it might have some mistakes. The house-shaped network of roads with the red traffic light at the top is one of Adelaide's squares. This one is one-way in a clockwise direction (as most are). There are actually lights on each corner of this square. Yellow is a bridge. The one over the rail lines has a pedestrian footpath on both sides. Car parking is more expensive the closer it is to King William St. The All day park has a cheap, flat rate ($3)