Lines into Adelaide station.
This photo, taken 1999, is facing away from Adelaide station. There are nine platforms, all broad guage.
To the left is the now completed skate park, although might be extended. Behind that is North Terrace and the University of South Australia's City West campus. In the centre left is what I believe to be traffic control or some other TransAdelaide builidng. Behind it is a bus depot and staff car park. To the right is the yard where most trains sleep overnight. The main lines go to the right of the photo where the south lines head left, behind the yard, and the rest head right. Another small yard is to the right where some (yellow) track maintinance equipment rests.
Behind the billboard is an approx $3/day car park. Sometime I might draw a map of the area, it can be quite complex with the brige and underpasses.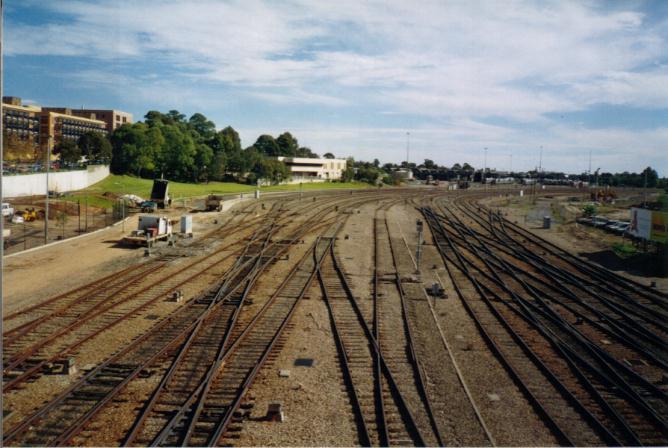 Behind me the lines are now all covered by the Adelaide Convention Centre, which is a lot more aesthetic. It's interesting to note the chimneys to ventilate the train fumes. The underside of the bridge is black from diesel smoke. If you're wondering how on earth I took this piccy, I was on the footpath of the Montefore bridge. For more info see my trainspotting page.
---