The Adelaide Metro Metroticket
For official information, visit http://www.adelaidemetro.com.au/ Timetables, ticket types and prices, and even an animation of how to validate.
Metrotickets must be validated each time you board public transport. If the ticket runs out while you travel, it's ok, but you can't transfer on the same 'trip'. (Multitrip will be charged again, or use another singletrip).
Usable for:
Metro bus, train and tram. Not tourist busses, not airport bus, not for Barossa Wine Train.
Size:
Two can fit in a wallet the size of a credit card.
Types:
Singletrip (2hrs travel, blue), Multitrip (10 trips, orange/grey), Daytrip (one day, blue). Bicycle tickets are concession tickets except when travelling off peak (free).
Validate:
Every time you board.
Buy:
Delis, bus driver, tram conductor, train vending machine (on board), staffed stations, and more.
Discounts
Off peak (just after 9am to 3pm), Concession, Student. Off peak concession = off peak student.
2 Section tickets for short trips, not available with other discounts.
Reliability
Tickets and machines are fairly robust, but occasionally they do become faulty. Adelaide station has a special queue for faulty tickets.
Size
The following image shows the size of a metroticket in comparison to a Fly Buys card. They are small compared to tickets from most other transport networks.

Front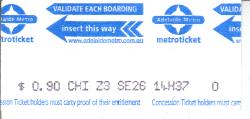 This is the front of a singletrip. Arrows show direction to insert into validator (arrow up). Validator imprint shows price paid, type (concession), and expiry time (validate before this time). I'm not sure what the rest mean.
Multitrip imprints are different, as 10 expiry imprints have to fit. Only the hours are shown and a symbol to show the portion of the hour.
Back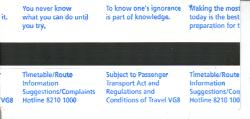 The back is quite simple. It has the magnetic strip. The top has quotes and sayings, often good ones but not many people read them, possibly because they've read all of them before. The bottom gives the hotline number, and reminds passengers they are "subject to Passenger Transport Act and Regulations and Conditions of Travel VG8".
Used metrotickets should be disposed of thoughtfully, or turned into 'clickers' before disposal for a little entertainment. Go somewhere else to find out how to do this, and don't annoy people with it.
---
Back