The Barossa Valley Broad Gauge Line
I had wanted to check out the train line in the Barossa Valley for some time, so about a week after exams I purchased some film, studied maps and timetables and drove off. A few months back I purchased SwiftMap volume 1. It's a CD topographical map of Adelaide and environs, the Barossa Valley is well covered. I find topographical maps have the best rail detail, it's a fact that some cartographers will tamper with small details to easily detect illegal copies of their maps, and train lines seem to be one of their favourites. I do not trust street directories for this reason. Meanwhile topographical maps have amazing detail, showing triangles and siding lengths. They can be a little old however.
Armed with a full tank of petrol and a loaded camera, I encountered a level crossing about an hour later. Running a little behind schedule I drove on, praying that I wouldn't miss the train.
I quickly checked the Tanunda station, as the train was due there any minute. Being empty I turned around and proceeded away from Adelaide. The rail line curved back to my road to run along side when I heard, then saw the bluebird. A quick U-turn and I met it back at Tanunda where it waited for a bus and a few limos returning from tours.
Bluebird rail car 251 - Chardonnay - in Tanunda station. I'm not sure about the 60 limit for "loaded marble trains only", I thought it was something to do with cement, but what does marble have to do with cement?.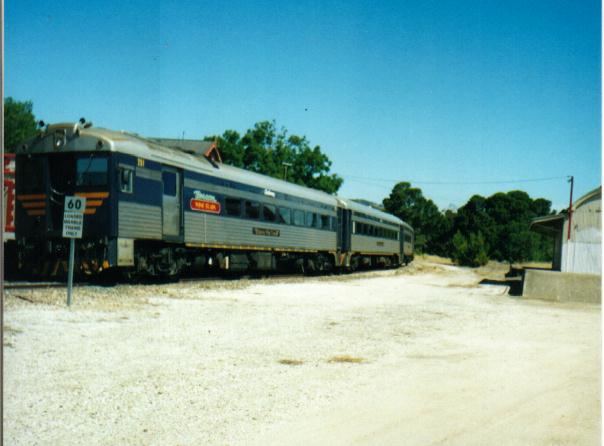 The 3-car consist in Tanunda. A goods shed can be seen to the right. Looks like all sidings have been removed. Some passengers followed my example and took photos, including one guy with a professional looking camera and tripod, who crossed the line and took some photos from a similar angle.
After taking these photos, I headed off to the nearest level crossing. As the train was still stationary I had some time to find a good position and survey the surrounding scenery. The Barossa Valley is a well-known wine region, it has had famous wineries since it was first inhabited by German settlers. Lately it has become much more popular with the recent publicity and popularity in Australian wine, with many more vineyards and wineries being built.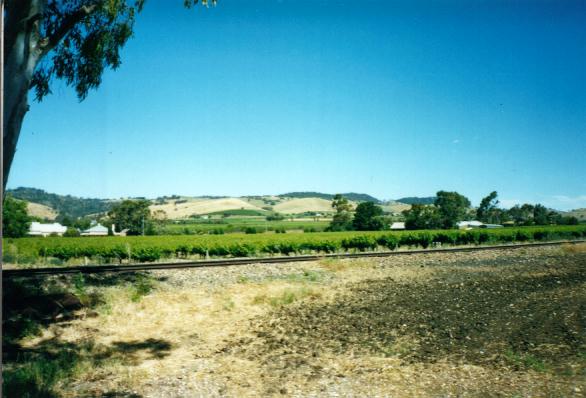 Looking across the train line and some of the scenery on offer to wine train travellers. Beyond the vineyard are some hills that form part of the Mt Lofty ranges and separate the valley from the farming country beyond, and the Riverland.
| | |
| --- | --- |
| | The wine train approaches the level crossing, controlled by stop signs. The traffic doesn't seem used to trains. I think some cars were a lot more cautious seeing me there with a camera. One car stopped for a few seconds then realized the train was still a while off, so crossed the line - the train was travelling probably below 40. |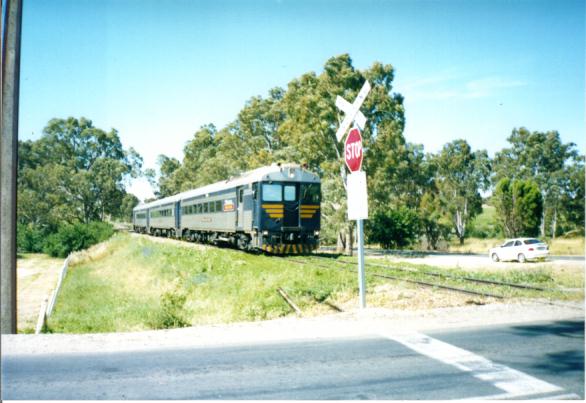 The wine train approaches the crossing. There were a few cars queued up, not seen in this photo. The white car is not mine, some other people were on the other side watching or waving or something - I was too busy taking photos to notice.
I had no idea how I'd go at the next crossing, however as I approached the lights started. I pulled off once again (remember to park at least 6m from the nearest rail). This crossing is in a cutting for both train line and road, so I ran toward the crossing with camera in hand. At the cutting I discovered the train, stationary, as one or two passengers were assisted - I forget if they were boarding or alighting. Soon they were ready to depart, and a bit closer for a better photo.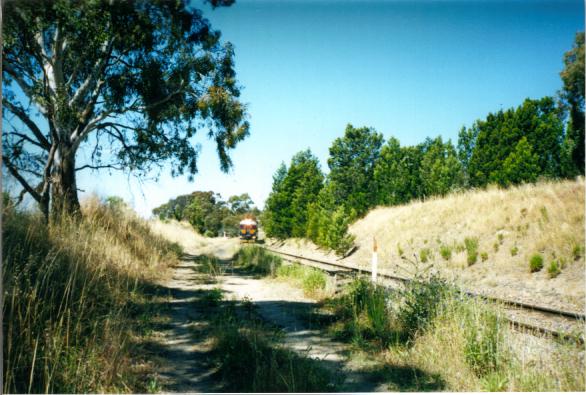 Train approaches the level crossing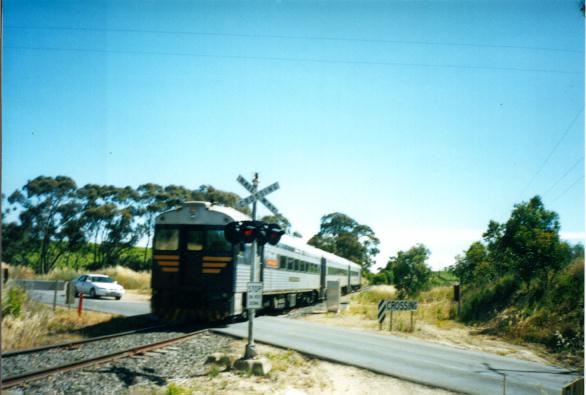 Train crosses. At the top of the signals is a white strobe light, which I haven't seen at any others. Most crossings include a small lens on the side so the driver can see the lights are flashing, however this would not always work due to track orientation, and possibly sunlight.
I walked back to the car and noticed a huge queue of traffic waiting. This is on the main road through the valley, so a lot of cars, busses and trucks were waiting. With another railcar and two container wagons, I reckon the traffic could have been halved.
Driving off, I thought I'd miss the train due to the traffic, however track alignment and restrictions must have been in my favour. In the next town, Lyndoch, I went to the nearest level crossing. No flashing lights, however as I crossed I saw the train approaching.

Wine train approaches level crossing, lights are not yet activated.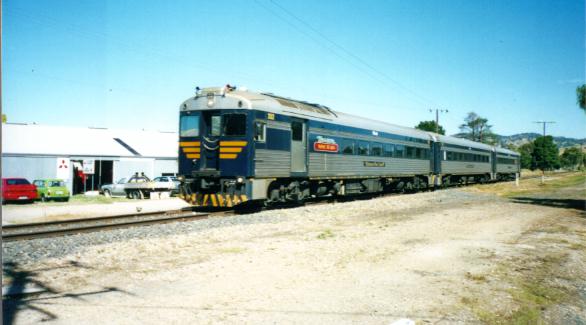 Lights are active as train nears the crossing.
After this photo I lost the train. If I had made the right turn and drove for longer I would have caught up with it, but the train had the advantage from here on, and it would soon be at Gawler where 90 Km/h running is the norm.
I was a little unsure of the area, so I did wait for the train, which had already passed. The road here is quite busy, being the main road from Gawler into the valley. I am not sure of what is in worse condition - the train line with 40-60 Km/h limits, or the road. The road is showing wear from increased traffic, especially increased trucks.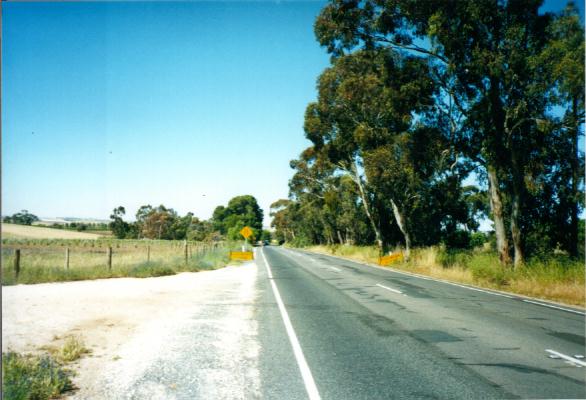 This photo shows a section of road that has been widened, but is still in bad condition. Ahead is a dangerous corner, I observed people swing out and cut the corner, if done at the same time it would mean a head on collision. The corner is rated about 45 in a 100 zone, with most other corners about 60 ones. Further up the shoulder is crumbling, making the usable road dangerously narrow for 100 Km/h. The roadwork sign might look promising, however I don't think it's enough. The roads are showing abuse from the increased number of trucks, which there were obviously not designed to handle.
I turned around to take photos of the stations along the line. Firstly stopped back at Lyndoch where the platforms need mowing.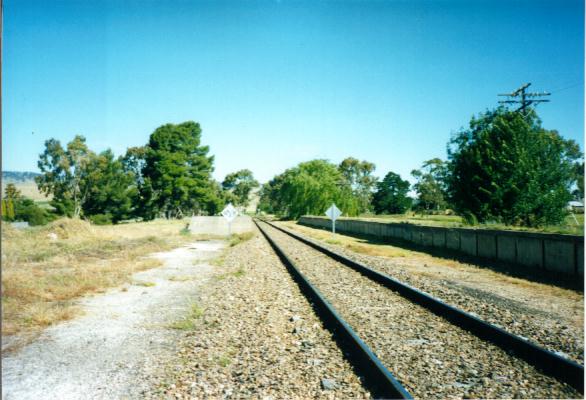 The line passes a very small platform, while a nearby long platform has no lines servicing it. The sidings have obviously been removed, and possibly some buildings. On the left is a small stockpile of about a dozen dual-guage concrete sleepers with clips attached. This was quite sad, no wonder I had never seen the station here before.
Back at Tanunda I was able to get this next shot of the station: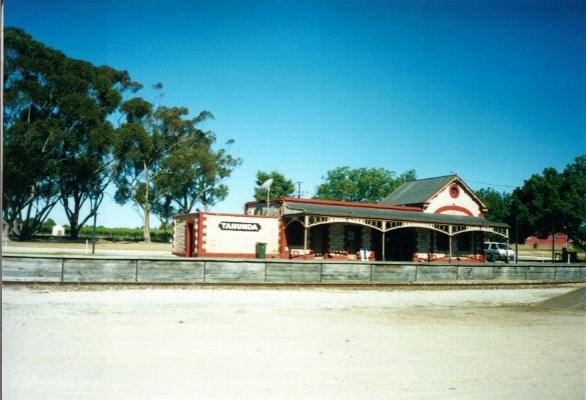 At Tanunda, it's obvious that sidings have also been removed, however the building looks like it's some tourist business. Normal road access on the other side, this photo from the car park of a pub. Barely noticeable are some green poles that look like they are designed to hold banners or posters (see earlier photo for better detail).
I have known of an unusual motel for some time, and had to take a photo of the place for gunzels to stay.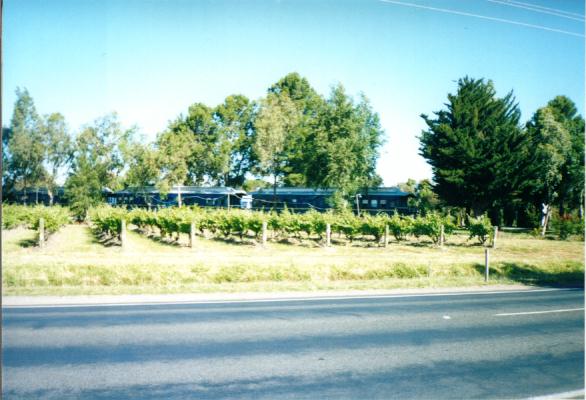 This is a motel made from old carriages, complete with level crossing in the car park. It's between Tanunda and Nuriootpa, I'm not sure of details.
At Nuriootpa the line runs right in front of a few wineries before curving across the road and through a winery to the station.
This photo shows the distant platforms of Nuriootpa station, along with the trackwork and associated signage. While I didn't check myself, Nuriootpa has a turning triangle, sidings and is a junction where lines branch to Penrice (cement train - quarry) and Angaston (wine train). It looks like it's all functional, unlike the other stations. After taking this photo I saw a Transfield rail maintenance truck drive away.
The last stop was the best. It took a little while for me to locate the station, however it was like hunting for a treasure, I was delighted when I found it.
This photo shows the station building and platform. It's like a station that's been in a time capsule, relatively untouched by time. Taking the photos I could easily imagine passengers waiting in the shelter as a steam train comes to a stop.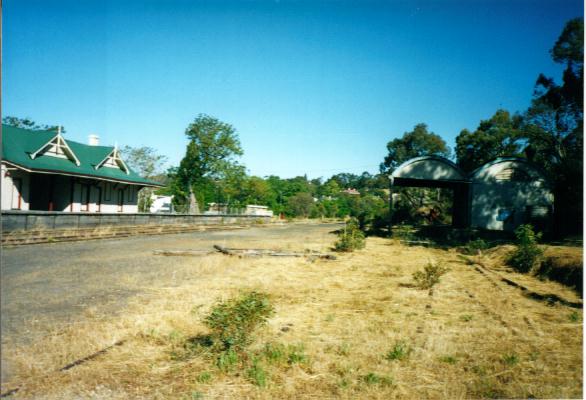 I was pleased to see nothing demolished or missing like the other stations, all track work is in position even though it is overgrown and has been neglected. This photo is facing the end of the line, which is badly overgrown, but probably still intact. I am standing in the lines with some small trees. Only the platform-side track is used and it is showing age. It seems that there were four tracks, two for passenger and two for freight with a significant gap between. At the end all lines converge, possibly for locos to changing lines or shunt. There is also a siding from the platform line heading into the trees. I'm not sure where it goes, could be just a siding or it could lead to a turntable.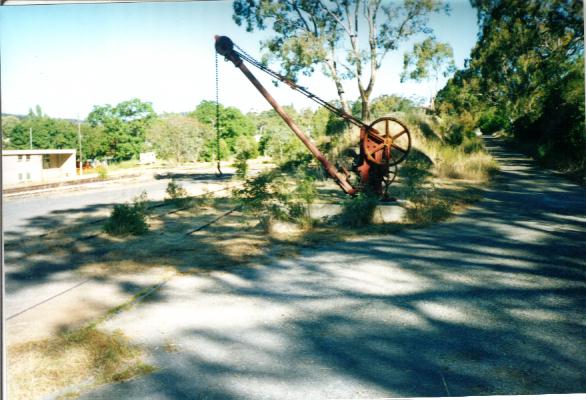 This seems to be an overgrown goods platform with what I think is a standard issue SAR crane. The lines are starting to converge which might have been a little impractical.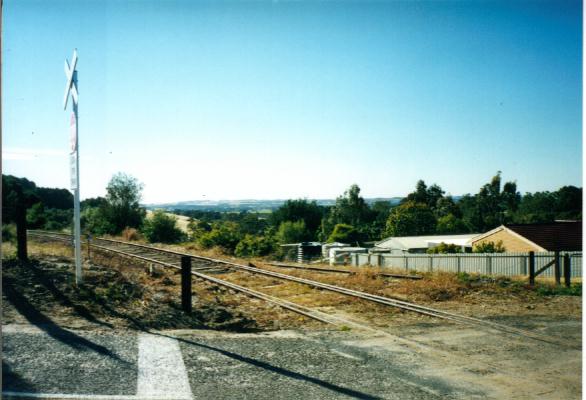 One of my favourites, looking out over the northern Barossa Valley from near the Angaston station. The views from the train on this section of the line must be amazing.
---